WE HAVE OVER 1 MILLION PARTS IN STOCK.
FOOTBALL SEASON IS IN HIGH GEAR AND WEEKEND IN AND WEEKEND OUT YOUR ON THE ROAD FOLLOWING YOUR FAVORITE TEAM. NEED SOME GREAT TAILGATING ITEMS? COME ON IN A STOP BY FOR A VISIT....WE ARE THE TOY STORE FOR RECREATIONAL VEHICLES!!!!
HAVE YOU BEEN LOOKING FOR THAT NEW UTILITY OR CARGO TRAILER TO PULL BEHING YOUR RIG? NEED SOMETHING TO HOLD ALL YOUR ITEMS FOR THIS FOOTBALL SEASON? THEN BUNKLEY'S IS THE PLACE TO BE. NEW SHIPMETNS IN ALL THE TIME. GREAT BUYS AND BARGAINS AT BUNKLEY'S RV SUPERSTORE. COME SEE US TODAY!!!!!
MOBILE'S UTILITY AND CARGO TRAILER HEADQUARTERS
PO Box 190206 * MOBILE * Alabama * 36619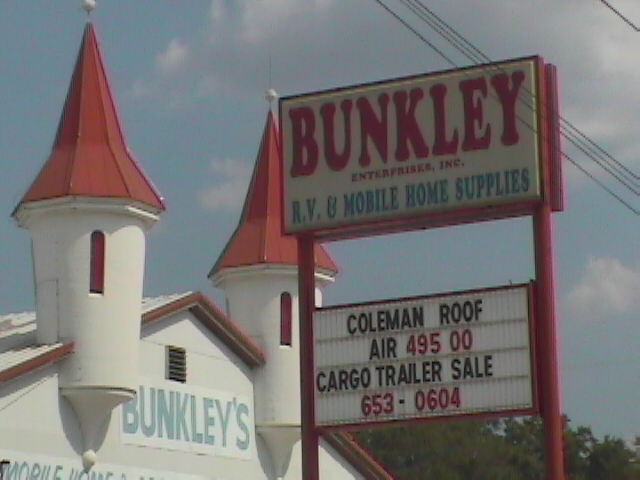 FROM OUR FAMILY TO YOURS WE HOPE YOU HAVE A GREAT FALL!!!!!!!
TAKE I-10 EXIT 15A HWY 90 WEST THEODORE 1/2 MILE ON LEFT AND
Watch for the Castle Tops
Well glad you made it to our new website. Here you will find information about the Utility and Cargo Trailers that we have in stock or can get for you. Please feel free to glance around and E-mail us with any questions or comments.